Our Staff
Duffy Electrical Services Tucson, Arizona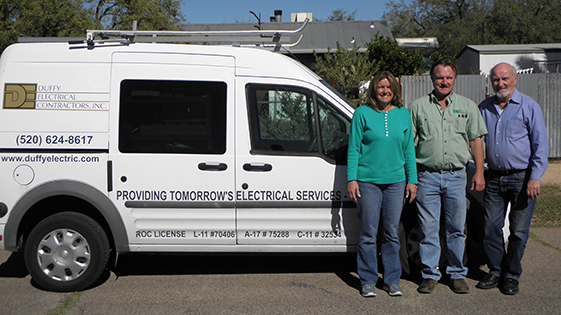 Duffy Electric was started by Jerry Duffy, Sr., who began his work in the electrical industry as an apprentice electrician with Oestreich Electric.  After serving a five-year apprenticeship, Jerry became a journeyman electrician in 1966.  At that time, Oestreich promoted Jerry to foreman status.  He then supervised and installed projects until starting Duffy Electrical Contractors, Inc.  in 1969.
Our experienced management staff has over 120 years of cumulative experience in the industry and employment with Duffy Electrical Contractors.
| | | |
| --- | --- | --- |
| Jerry Duffy, Sr. | President | Retired |
| Jerry Duffy, Jr. | Vice President/General Manager/Estimating/Project Manager | 35+ years |
| Brenda Olsson | Customer Service, Accounting, and Human Resources | 35+ years |
Staff Biographies
JERRY DUFFY, SR. – PRESIDENT

Tucson resident since 1956.  Graduated from Rincon High School in 1960.  Began electrical apprenticeship in 1961, working for Oestreich Electric in Tucson.  Employed at Oestreich throughout five years of apprenticeship training.  Upon successful completion of the program, I was promoted to a foreman position with the company and oversaw the completion of several construction projects for the next three plus years.  In 1969, left Oestreich to form Duffy Electrical Contractors. Retired from daily operations in August 2015.
Industry Affiliations
Independent Electrical Contractors (IEC) of Southern Arizona
Past member of board of directors
Past president and secretary
Served on apprenticeship committee
Alliance of Construction Trades
Past member of board of directors
Past vice-president
JERRY DUFFY, JR. – VICE PRESIDENT
General Manager, Estimating, Project Management, and Supervision of all field employees
Tucson native
Graduated in 1980 from Catalina High School
Graduated electrical apprenticeship 1988
Past instructor of 4th year IEC of Southern Arizona Apprenticeship Program
BRENDA OLSSON – SECRETARY / TREASURER
Office Manager, Customer Service, Accounts Receivable, Accounts Payable, Human Resources
Tucson Native
Graduated in 1981 from Catalina High School
Began career with Duffy Electrical in 1983
Past Training Director for IEC of Southern Arizona Apprenticeship Program